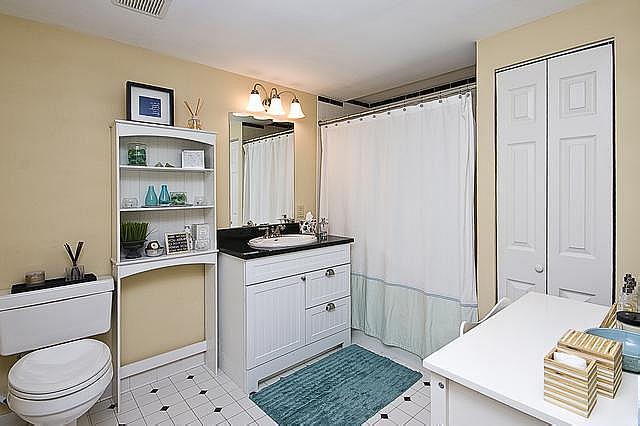 Have you already signed the listing contract and are getting ready for the first open house?  Or are you just thinking you might like to sell sometime next year?  It is never to early to think about the tricks and tips you'll need to get your home sold in a timely and top-dollar fashion. You only get one chance to make a great first impression, so it is a smart idea to give it your best possible shot right out of the gate.
So how do you get ready for the big day?  It's called staging.
The term staging might bring up all sorts of intimidating ideas in your head –not excluding the idea that you might need to pay a professional a lot of money to get the job done.  Not to fear.  Staging professionals can be great –and well worth the cost.  But not everyone needs (or wants) one.  Definitely talk to your listing agent and friends to get their opinions on what your home needs –and if a professional is called for, the best route for that is a referral from people you trust who have had a positive experience with a particular person or company.
But I bet you're thinking, that's great, but can't I just do some fixing up myself?  And the good news is, yes you can!  Elbow grease can go a long way in making up for dollars.  We at Marston Beacon Hill have put together a handy list of some of the easiest and least expensive ways to get your home market-ready.  Having helped many homeowners through the process ourselves, we know first-hand what works and what doesn't.  Here are some tips for a quick, easy, and rewarding selling experience!
Quick & Easy Tips to Get Your Home Ready to Sell
1. Scrub 'til it Shines (With a Little Extra Love to the Kitchen & Baths)
As much as we'd all like it not to be true, there's just nothing better than elbow grease to get top results for bottom dollar.  Get out your rubber gloves!  And get scrubbing.  Here's the rub: you want to make sure you get every nook & cranny.  Believe it or not, it's the nooks & crannies that will count the most.  Buyers walk in and they're either wowed or dismayed –and most of the wowing/dismaying comes from the kitchen and the bathrooms.  These are the make or break rooms.  They need to gleam and sparkle.  Buyers need to feel that they could just drop everything right there and start calling it home (AND that if they lived there, they would obviously start a new life of spotless living).  When they peer behind the toaster oven, let them see shining tiles.  When they pull back the shower curtain, let them see stars.  There are no magic tricks to number 1 –just get everyone on board and scrub like you've never scrubbed before.  It works!
2. Cull the Clutter . . . and Paint!

Are your stairs a mini-museum for your kids' toys?  Or perhaps the front hallway resembles a shoe sale extravaganza?  Time to get packing!  Put it ALL away.  No excuses.  As much as you might think it adds a feeling of "home" and fills you with warm and fuzzy ideas of family and fun, buyers want to imagine themselves with their beloved clutter surrounding them, not yours.  As is the case with #3 (next), you can look at this as a jump-start on the packing job that will come faster than you might like once your home sells.  Don't forget Fido's bones and Mr. Whiskerson's cat bed.  Now that you can see your home, don't forget to execute the quickest, easiest, and biggest impact to do: PAINT.  Talk to your local Home Depot or similar shop to get the scoop on neutral colors and accent walls that appeal to the masses.
3. A Little Less Personality Please

We know you're proud of your twelve hard-won bowling trophies and collection of hats from around the world, but the hard truth is that buyers won't be as thrilled.  As much as it might hurt to acknowledge, buyers don't want to know about your life in the house, they want to wander about fancying themselves living there and making it their own.  If trinkets and tchotchkes are the hallmark of your home, wave the magic wand and make them be gone, post-haste.  You can look at it as getting a jump-start on packing!
4. Minimize and Accessorize
The idea of "staging" a home for sale is really about minimizing and accessorizing wisely.  You might even like to think Pottery Barn catalog or Restoration Hardware if that helps you get in the mood.  Open up the space in your home by having only the bare minimum of well-chosen furniture and accessories on display.  Consult the aforementioned authorities for current trends if you need some inspiration.  You can go to places like The Christmas Tree Shoppe and Target to get inexpensive "dressings" for the bathroom and living areas.  Think "spa" for the bathroom accessories –soothing and refreshing is what you want to keep in mind –think ocean.
5. Call in the Odor Patrol
Ooh that smell!  This is a sensitive subject.  Especially for your nose –well actually more for other people's noses, in fact.  This is one you just can't go it alone for.  Ask for help.  When you've been living in your home for so long, you become too well acquainted with the various scents of your dwelling and tend not to notice them much at all.  Bad news for buyers!  They will notice Fido immediately.  And also the fish that you cook every Tuesday night and reheat again on Thursdays.  Clean it all up and maybe even change your routine for the time being if you need to tone some of these scents down a bit.  Have your listing agent and friends check it out for you.
Well That About Does It!
This handy list should be enough to get your home in tip-top selling order.  Again, rely on your listing agent's wisdom and experience for assessing which of these items might be top priority for you –they've seen it all too many times before and you can take advantage of that insider knowledge.  If elbow grease just isn't your thing, home stagers can get the job done quickly and efficiently.  Your listing agent and friends are the best resources for finding a stager who matches your budget and style.
Until Next Time, Happy Home Selling from Annie Liza Bergen and Your Friends at Marston Beacon Hill!